Guide to buying the best yellow frame glasses
Jul 14,2023
Your favorite color is yellow, but you are still determining whether a pair of yellow glasses suit you. Look no further; this article discusses meaningful ways to get the best pair of yellow glasses to complement your style and skin tone. You'll be surprised by the vast range of yellow glasses options you can find.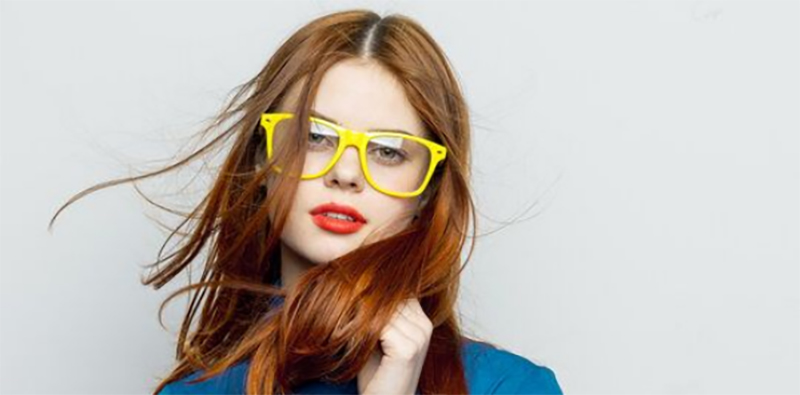 Why does someone prefer yellow frame glasses?
Besides the fact that some people's favorite color is yellow, the color also resonates with sunshine. Some associate yellow with positivity, happiness, and hope. When wearing those yellow glasses frames, these descriptions put you in an excellent mood.
Yellow brings color to your fit, and the lighter hues allow you to combine other brighter accessories to your overall fit. While exploring yellow shades, you'd know that lemon, amber, canary, sunflower, mustard, and ochre are some popular shades you can choose for your eyeglasses.
Who do yellow frame glasses look good on?
Everyone will look good in yellow if you choose the best eyeglasses shades. You must also consider your wardrobe and see if it complements your chosen frame. Another point to consider is your skin tone. Which among the complexions suits yellow shades? Check out the list below.
1.Dark skin tone. Yellow is made for tan and black skin tones. You can choose anything from bright sunshine to neon yellow if you have a dark complexion. It's all about vibrant yellows for you. These shades indeed complement your skin tone.
2.Medium to olive complexion. You can opt for vibrant and bright yellows, which make you shine more. It pays to avoid too many green and mustard yellows as they're closest to olive green tones, which are unsuitable for your skin tone.
3.Light to fair skin color. Dark yellows and mustard are your go-to yellow shades. These hues go well with your complexion. Light yellow and pastels can also be an excellent option for your frames if you prefer a more minimalist look.
Guide to buying the best yellow frame glasses
Now that you know what skin tone best fits specific shades of yellow, it's time to consider other essential factors before buying a pair of yellow glasses. These are the common points one must not forget to ensure the perfect fit for their frames.
1.Frame style.
Your yellow glasses can be a cat-eye, round, rectangular, square, or oval in shape. It's essential to know your facial features and determine your face shape. This way, you can quickly narrow your options to frames that balance the prominent features of your face.
2.Durability.
There are impact-resistance yellow glasses that won't cost you too much. You can check your eyewear store as to the materials they use to create the glasses. In most cases, anti-scratch and anti-reflective coatings are available for the glasses lenses.
3.Budget.
There are many cost-effective yellow glasses if you're not into spending hundreds of dollars for a pair of glasses. Indeed, if you can afford to buy expensive ones, you can do so. The bottom line is you must get your money's worth.
4.Personalized glasses.
One single color for each frame type is long gone. Today, you can explore your options, check the available eyeglasses colors, and select the best one. Customization is essential since you can have more personalized eyeglasses which speak more of yourself.
Yellow frame glasses for 2023
There are various yellow glasses from different manufacturers today, and it sure can be a handful to choose what's best for you. We list some shades and styles of yellow glasses for you to take inspiration from.
1.Molina
Put fun and color to your look with these cat-eye, geometric yellow glasses. The rims come in sturdy and bold borders in light yellow shades. The blue accent on the temples gives a more free-spirited vibe when worn.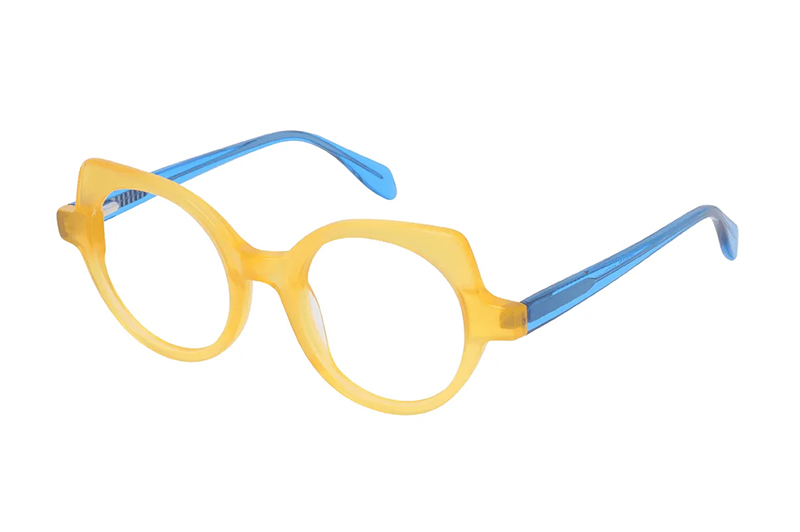 2.Carmelo
A little oversized yellow glasses but enough to protect your eyes from UV rays, dust, and possible falling objects. The combination of black and yellow on this metallic frame make it more elegant and trendy.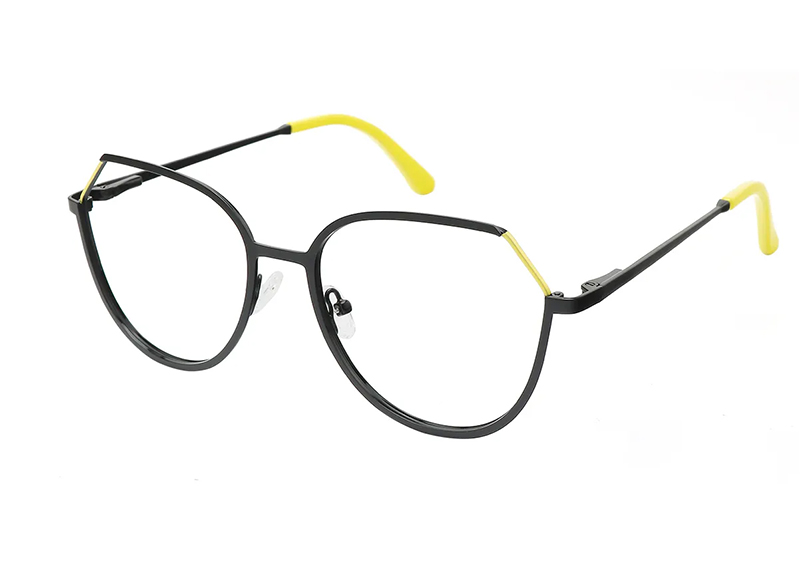 Another cat-eye yellow glasses frame is suitable for your daily fit. It comes with a thicker rim border for complete lens protection. People with eye prescriptions can customize the glasses lenses before having the frames delivered to their doorsteps.
Related articles:
Guide to buying the best orange frame glasses
Guide to buying the best brown frame glasses
Guide to buying the best pink frame glasses
Guide to buying the best purple frame glasses
Guide to buying the best yellow frame glasses
Guide to buying the best white frame glasses
Guide to buying the best red frame glasses
Guide to buying the best silver frame glasses
Guide to buying the best gold frame glasses
Guide to buying the best tortoiseshell frame glasses
Guide to buying the best green frame glasses
Guide to buying the best blue frame eyeglasses
Why choose black frame glasses?
Are black frame glasses in style in 2023?