Guide to buying the best orange glasses
Jul 26,2023
Gearing for your summer look includes eyewear. A vibrant pair of sunglasses surely goes well with the season. With this, look at bright colors, including orange glasses.
While it might be too colorful for some people, other ways exist to score the best orange shades for your eyewear. Using orange frames does solely mean opting for the brightest one available. Read through this article as we take you through the best orange hues you can use to pair with your summer outfits.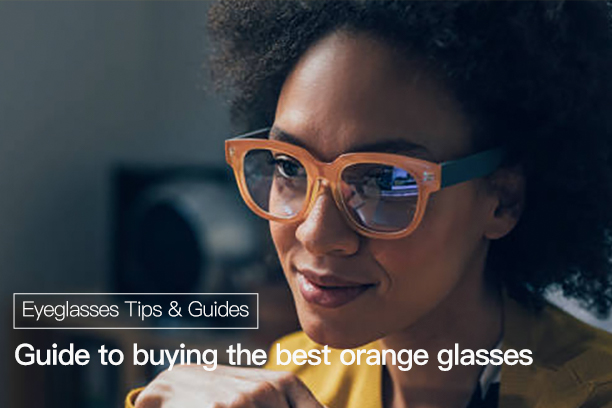 Why do some people like orange glasses very much?
Technically, orange is made from yellow and red. It blends the energy and power of red and yellow cheerfulness. Wearing orange sunglasses results in a stimulating and energetic color exuding creativity and joy. Surely, you can use this color in your summer wardrobe. However, the orange also symbolizes the changing seasons. Some call it the color of transition.
People love orange glasses as they evoke optimism, enthusiasm, confidence, and warmth. It's a frame color you can wear on regular days or special events to add character and mood to your overall look. Since the color is bright, it can also help people feel bolder and more outgoing.
Guide to buying the best orange glasses
As you know, orange glasses come in different styles and hues, so it can take a lot of work to choose among thousands of them in the market. Consider the following elements below to narrow your options to the best ones.
1.Color.
While orange brings positivity and vibrancy to one's wardrobe, the color might only be ideal for some. Hence, you must consider your skin tone if it suits orange. In most cases, those with warm skin color can opt for orange glasses. However, there are different shades of orange that you can experiment with to compliment your skin tone. It's just a matter of getting the right orange shade.
2.Frame style.
Orange glasses come in different shapes, including round, oval, square, and geometric frames. The right orange glasses shape will accentuate your facial features. This is why knowing your face shape is best before choosing a frame design. There are eyewear stores that let you try the frames virtually before buying a pair. You must remember that the frame style must contrast the shape of your face.
3.Customization.
Even if you opt for the simplest orange glasses design, going to an eyewear store offering customization options to personalize your frames would be best. This may include choosing orange shades and types of lenses. Changing the lenses is essential if you need prescription eyeglasses.
4.Material.
You can opt for acetate, plastic, or metallic; whichever suits you best. You can check with the eyewear manufacturer on the raw materials used on the frames. You must get your money's worth and own orange glasses that can withstand bumps, especially if you use them daily. Also, check if the lenses have an anti-scratch coating.
The best orange glasses frames for this year
The best orange frames vary for every person. You can see some of the most popular orange glasses designs below.
1.Pagan
The classic small round glasses are here with a twist of orange highlights. Imagine Harry Potter eyeglasses but in all orange color. Pagan frame does not make you look bolder but also vibrant. The borders on the rim are solid enough to hold thicker lenses. There's also an anti-scratch coating to ensure durability.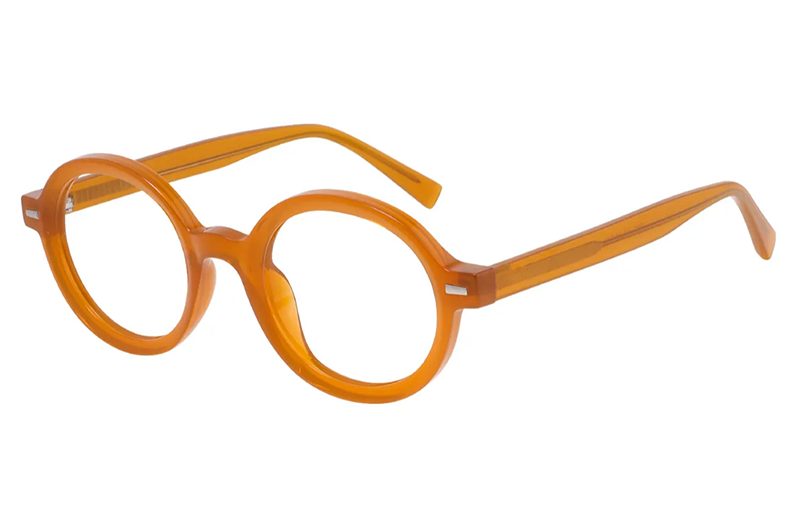 2.Rainey
As has been said, you can experiment with various shades on your orange glasses. You can opt for these Rainey glasses in transparent orange. The temples have pastel-like orange hues, while the rim borders are pinkish. The color combinations make it look chic, exuding neutral color tones. As a result, you can pair these oval orange glasses with any outfit you have.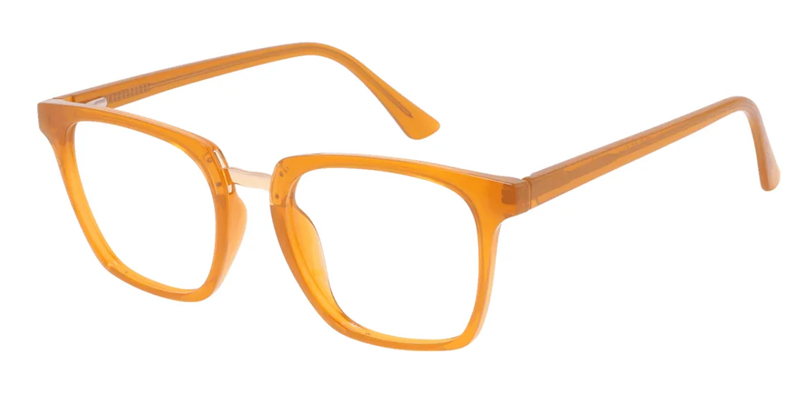 3.Neon
Square orange glasses look great on round-shaped faces. These Neon frames come with orange temples and transparent rim borders. The borders are sturdy, enough to hold thick prescription lenses. These glasses are made of clear acetate, giving an unobstructed view of the wearer's facial features. Besides the anti-scratch coating, Neon's orange glasses also have a green coating for clearer vision.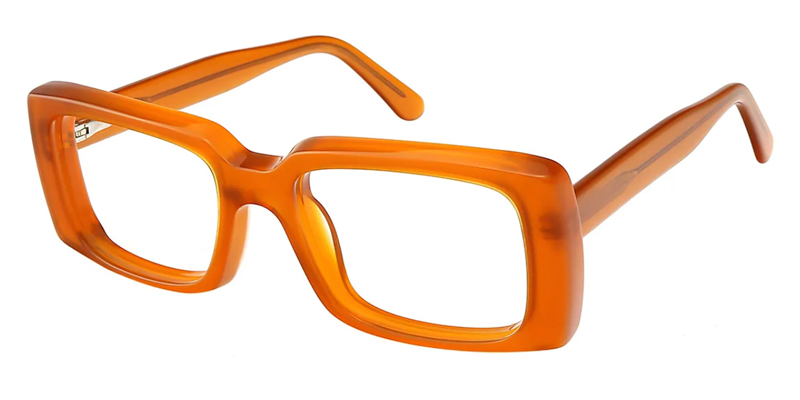 Related articles:
Guide to buying the best orange frame glasses
Guide to buying the best brown frame glasses
Guide to buying the best pink frame glasses
Guide to buying the best purple frame glasses
Guide to buying the best yellow frame glasses
Guide to buying the best white frame glasses
Guide to buying the best red frame glasses
Guide to buying the best silver frame glasses
Guide to buying the best gold frame glasses
Guide to buying the best tortoiseshell frame glasses
Guide to buying the best green frame glasses
Guide to buying the best blue frame eyeglasses
Why choose black frame glasses?
Are black frame glasses in style in 2023?