Guide to buying the best gold glasses
Mar 30,2023
There's something that feels extra glamorous and expensive about gold glasses. They're timeless, and help to elevate any look instantly and effortlessly. Even if you've never worn gold glasses before, they're so easy to transition into from any other style. If you're thinking about making this change, read on to learn how to find the perfect pair for you.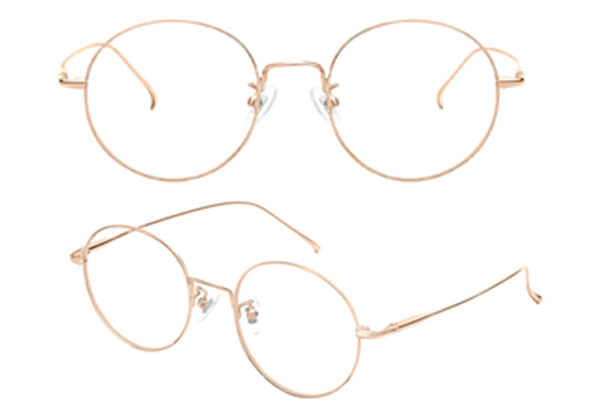 Is gold a good color for glasses?
When looking to purchase new glasses, many people might be surprised at how durable and long-lasting gold frames can be. Metal frames such as gold tend to be sturdier than plastic options, offering a wider range of designs that can afford to be thinner without compromising on sturdiness and longevity. Gold glasses are also incredibly diverse - the neutral tone goes with almost all personal styles, and can be worn confidently against colors without clashing.
Who looks good in gold glasses?
For some people, wearing gold glasses can seem a little intimidating to begin with, especially those who are used to more muted glasses frames. But think of your glasses like any other piece of jewelry - if you already wear gold earrings or necklaces, the gold near your face will help to brighten everything, and help you stand out from the crowd. Even if you don't wear gold jewelry, you might find that gold glasses are the perfect accent against silver jewelry. Mixing metals is becoming increasingly common, and it helps to make a bold statement. Your glasses and jewelry will stand out against each other, helping to elevate any personal style.
The good news is that everyone looks good in gold glasses. The market continues to grow and develop, and there are stunning gold frames being added to EFE all the time. It may take a little patience to find the perfect pair, but once you find them, you'll never want to wear anything else!
Guide to buying the best gold glasses
If you've decided that you want your next pair of glasses to be gold, the next step is finding the right frames for your face. Glasses are a practical tool designed for visual support, but that doesn't mean they have to look boring. When you're searching for the right gold glasses, we recommend looking for frames that suit your face. It may take some trial and error, and a lot of trying on different frames, but you'll know when you find the right pair for you! You may want to opt for something with just a gold accent, such our Jesus glasses, only the legs are black, or like Bella glasses, they are completely gold.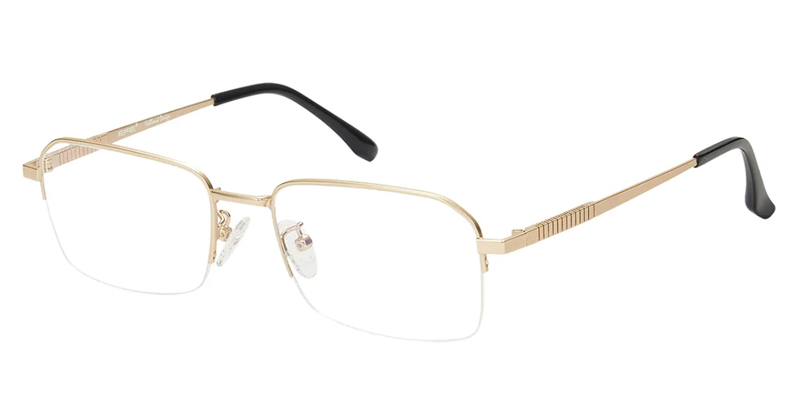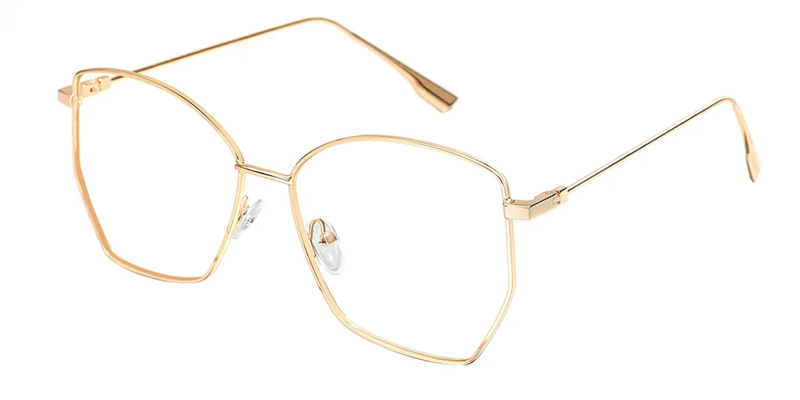 When buying any glasses it's always important to find high-quality products. This helps to ensure longevity, but it also means that the visual aid the glasses provide is as good as possible. When looking for gold glasses, this should also be a key component. The good news is that all of the glasses available at EFE are selected specifically for their quality, so you can feel confident in your choice no matter what it is.
The best gold glasses for this year
If you love the idea of gold glasses but don't want them to overpower the rest of your face, why not try a pair with gold accents? From the front, the Delia glasses showcase their black lens rims, with gold accents and details. It's only when you turn to the side and the gold glasses arms are visible, that you get the full gold shine.
These glasses look great, and they're also made from durable materials. This makes them perfect for everyday wear, and the glasses lenses offer an anti-scratch coating for clearer vision. If you really want to stand out, why not opt for something like our Ines cat-eye glasses? These frames have the perfect hint of gold arms, contrasting perfectly with the brightly-colored lens rims. We love the bright green option, but you can also select something sleeker to match the gold, like a black or tortoise shell.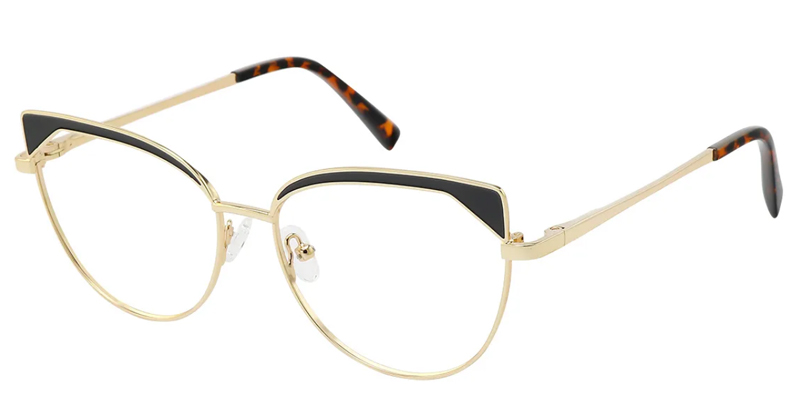 When searching for the perfect gold glasses for 2023, don't forget your prescription sunglasses! The good news is that EFE has a wide range of modern and classic styles to choose from. If you're looking for a pop of gold, you can choose from either black-tinted lenses for a more traditional style, or go for pink lenses if you want to stand out.
Related articles:
Guide to buying the best orange frame glasses
Guide to buying the best brown frame glasses
Guide to buying the best pink frame glasses
Guide to buying the best purple frame glasses
Guide to buying the best yellow frame glasses
Guide to buying the best white frame glasses
Guide to buying the best red frame glasses
Guide to buying the best silver frame glasses
Guide to buying the best gold frame glasses
Guide to buying the best tortoiseshell frame glasses
Guide to buying the best green frame glasses
Guide to buying the best blue frame eyeglasses
Why choose black frame glasses?
Are black frame glasses in style in 2023?