Guide to buying the best white frame glasses
Jul 14,2023
White is one of the most versatile frame colors, as it can easily be paired with just about any outfit. White also looks good on just about everyone, regardless of gender, skin tone, hair color, and so on. It's therefore not that surprising that we are now seeing a lot of white frame glasses everywhere.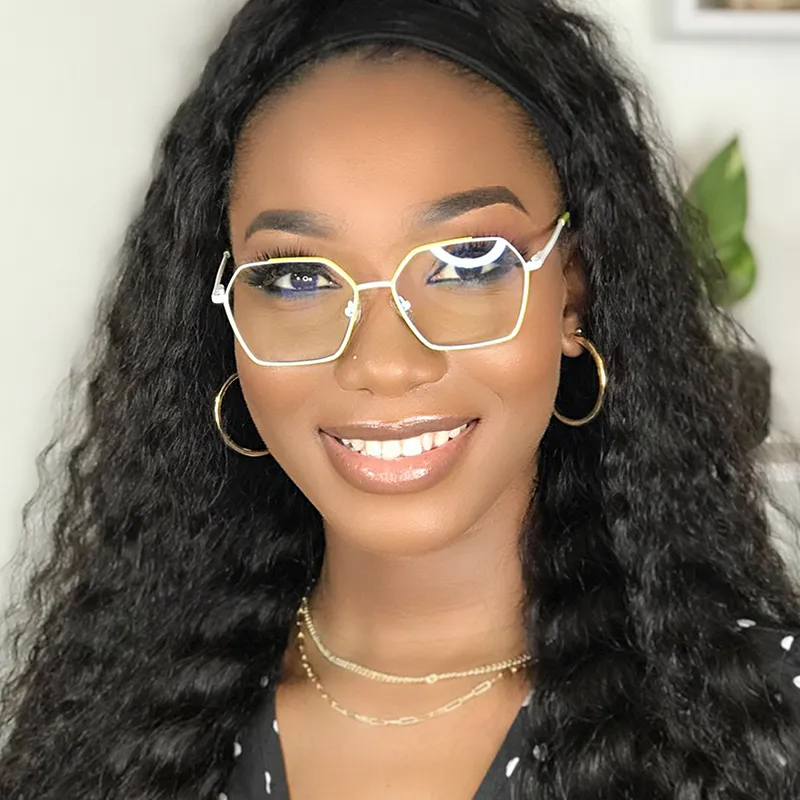 Are white frame glasses in fashion?
It's official – white glasses are definitely hot in 2023. Celebrities all over the world have been spotted donning white and transparent glasses, which only confirms that these accessories are indeed the current trend in eyewear. And sure enough, ordinary folk have already followed suit. As a matter of fact, white glasses have risen in popularity several times in the past. In the 1940s, white sunglasses were quite the fad, with major eyewear manufacturers coming out with their own version of white frames. In the 1960s, Audrey Hepburn famously sported a number of white sunglasses, and it caught on again. And now, they are back once more, featuring a comeback of old styles as well as a lot of new designs to choose from.
Who do white frame glasses look good on?
One of the things we love about white glasses is that anyone can pull them off. But if you want to really get down to the nitty-gritty of color choices in fashion, it is true that some people can really shine more than others by wearing white frame glasses. Take individuals with cool skin tones, for instance. White is one of the recommended colors that can balance the dominant blue hues in the skin, creating a warmer glow to the complexion.
Traditionally, white glasses were considered really nice for women but not so much for men. However, recent trends show that men can actually look very cool and quite sophisticated in white glasses. As long as you have the confidence and the personality for it, white glasses can enhance any look or outfit.
Guide to buying the best white frame glasses
When buying white frame glasses, you should consider the rules of choosing any pair of glasses. Start by choosing the right glasses frames that complements your face shape. The rule of thumb here is that opposites attract – round faces look good in rectangle or square frames, while angular faces can benefit from the soft curves of an oval or round pair of glasses.
Next, choose the size of the frame. Oversized frames are very much in fashion these days, but if they are not for you, there are plenty of smaller and narrow options you can consider. Of course, you should always check for the durability of the frame material, but also make sure to pick a lightweight pair that can sit comfortably on your face even for extended periods. As for the lens, always look for something with UV protection, particularly if you are going to use it a lot outdoors. Anti-glare and anti-scratch coatings are also an advantage.
White frame glasses for 2023
White frame glasses come in a large variety of shapes, styles, and sizes that you can choose from. To help you decide which pair to pick, we have plucked out our top three favorites from the vast selection out there. Check them out below.
1.Dieppe - vintage rectangle glasses
Featuring narrow rectangle frames, the Dieppe exudes an unmistakably cool and sophisticated look that is just right for the fashion-forward intellectual. The simple but very modern design of these glasses makes them very attractive to the younger crowd, but they actually look fabulous on men and women of all ages.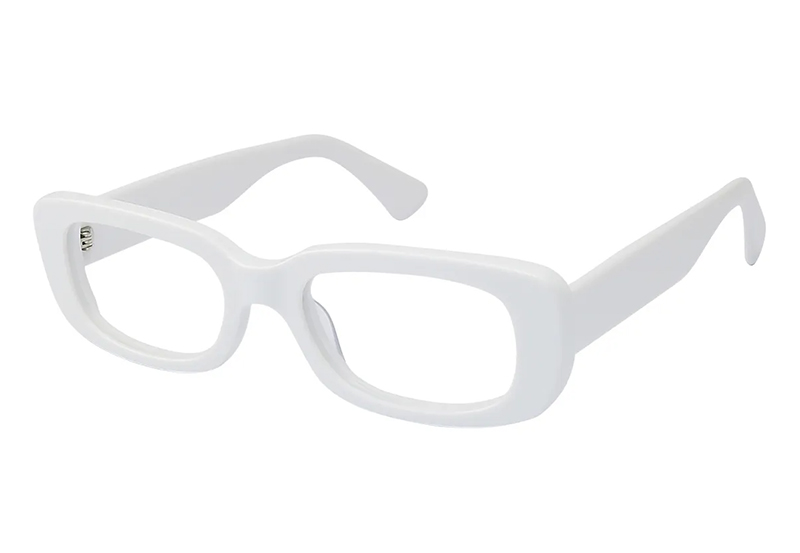 2.Leigh - trendy cat eye glasses
Another classic all-white piece, the Leigh fashion eyewear is certain to draw admiring glances whenever you walk into a room. The rather thick frames perfectly accentuate your eyes, while the white finish brings out their color. The tiny metal detail is a nice surprising touch on this elegant pair.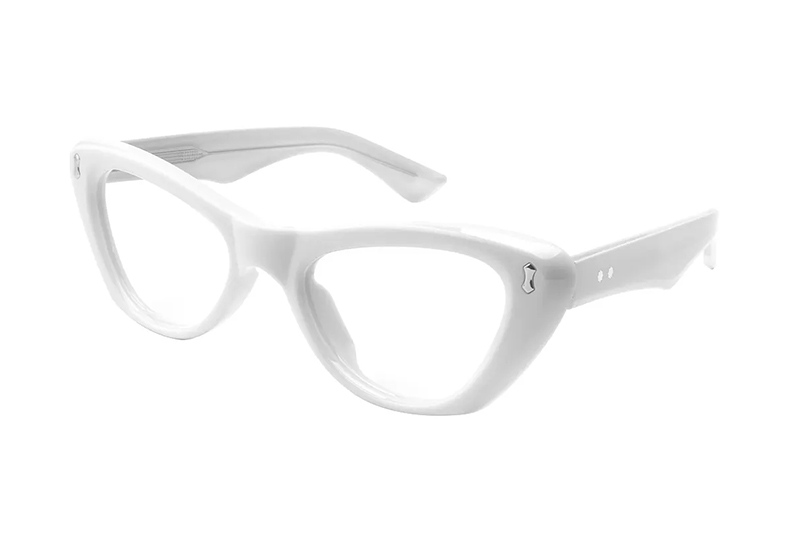 3.Sherry - trendy square glasses
If you prefer metal to plastic frames, the Sherry is an ideal option. The thin frame is just the right combination of style and function, and is so lightweight you can even forget you are wearing glasses. The square shape of its frame makes it most complementary to round and oval faces, creating nice angles on your soft features.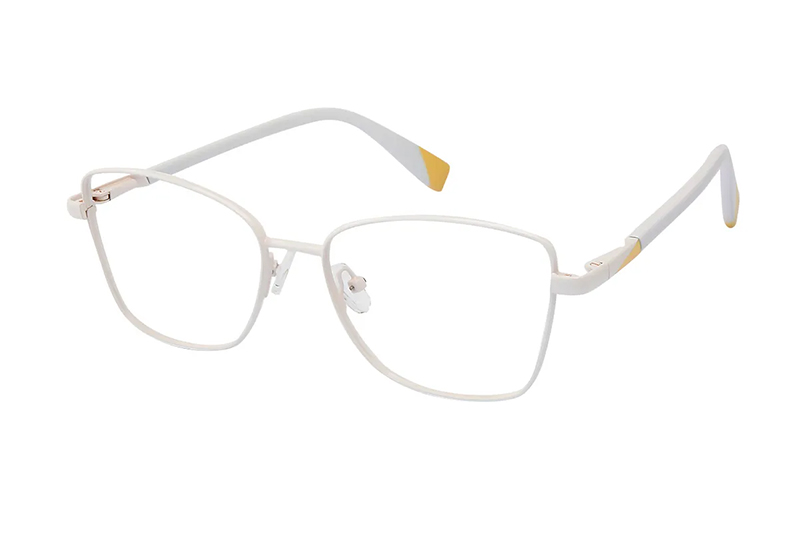 Related articles:
Guide to buying the best orange frame glasses
Guide to buying the best brown frame glasses
Guide to buying the best pink frame glasses
Guide to buying the best purple frame glasses
Guide to buying the best yellow frame glasses
Guide to buying the best white frame glasses
Guide to buying the best red frame glasses
Guide to buying the best silver frame glasses
Guide to buying the best gold frame glasses
Guide to buying the best tortoiseshell frame glasses
Guide to buying the best green frame glasses
Guide to buying the best blue frame eyeglasses
Why choose black frame glasses?
Are black frame glasses in style in 2023?