Metal frame glasses have been around since the 1700s, when glasses became more widely manufactured and available to the general population. The metal frames were able to securely hold the glass lenses in place, and they were light enough to remain on the face without falling, and sturdy enough to last through heavy day-to-day use. Today, glasses design has come a long way since then, but metal frame glasses remain some of the most popular options available - and for many good reasons.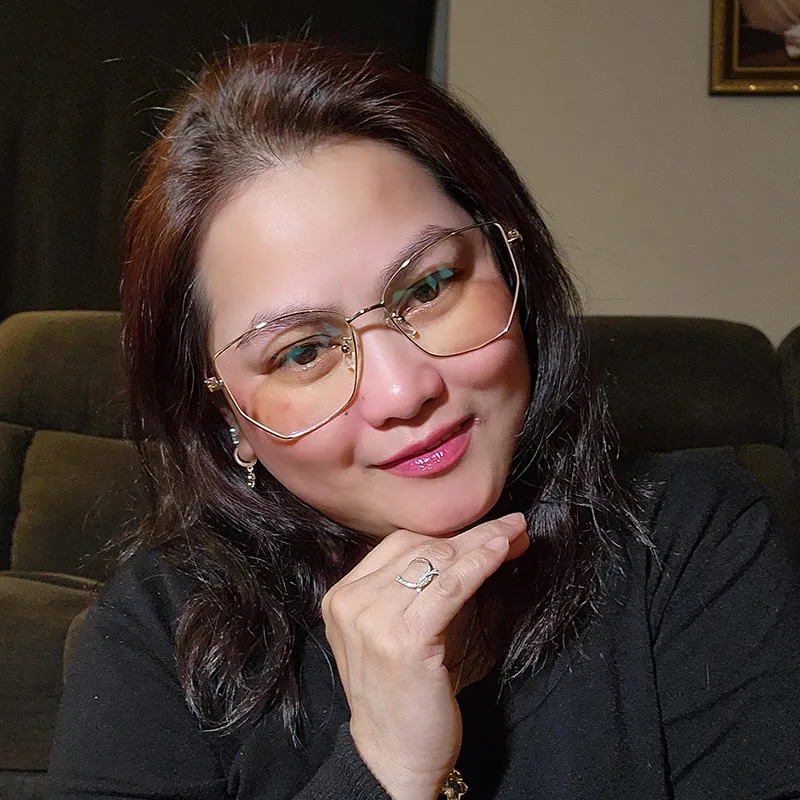 Are metal frame glasses in style?
Trends in glasses have come and gone, just like any other fashion cycle. The good news is that although design preferences may change, metal frame glasses will always be considered a great choice by many glasses-wearers. This is because of the diverse design opportunities the metals offer - thin metals can still retain their shape while holding the lenses, creating many glasses frames that cannot be replicated by plastic or acetate. Metal frame glasses are always in style, so they're a really great choice when trying to select your next pair. Whether you want a pair with a more traditional design or something more modern, there will always be a pair that looks great and retains its style throughout the years.
Metal Frames vs Plastic Frames
Now, let's see the major pros and cons that both glasses frame materials offer.
Plastic Frame
1.Colorful – In comparison, plastic frames come in several colors.
2.Extra Comfort – Unlike the nose pads on metal frames that dig into both sides of your nose. Plastic frames are made with a molded bridge to make them extra comfortable.
3.Sturdy – Plastic frames are never flimsy or loose on your face.
4.No Allergies – Unlike metal, there are no allergies to plastic frames.
5.Loosens Fast – With your frames on your face every time, the sweat could cause it to lose its adjustments.
6.Suppresses Lens Thickness – For short-sighted people, the lens might appear thick. However, plastic frames can suppress the lens thickness.
Metal Frames
1.Minimalistic Appearance – If you are looking to not make a bold statement then get a metal frame.
2.Breakable Joints – Metal frames easily break at the joints. Especially the frames without metal springs.
3.Steady Adjustments – The adjustments stay intact, unlike plastic frames. Even with the sweat, it stays tight.
4.Nose Pads – Almost all metal frames have nose pads to help with comfort. These nose pads are all adjustable to your best comfort.
5.Metal Allergy – Some people cannot use these metal frames because they are allergic to them. People are also allergic to nickel. Platinum frames could be better for these allergy problems.
Why are metal frames more expensive?
It is true that metal frame glasses tend to be more expensive than plastic alternatives. This is because metal frames are designed to be longer lasting, and can withstand a lot more wear and tear than their plastic counterparts. With metal frame glasses, you are paying a little extra for that quality. It's important to remember that although you may pay more for metal frame glasses up front, you may find yourself saving money in the long run. Investing in a single pair of quality metal frame glasses will be more cost-efficient than having to replace broken plastic frames at a much more frequent pace.
Guide to buying the best metal frame glasses
When searching for the best metal frame glasses, there are a few points that you need to consider before purchasing. Firstly, the quality of the glasses. Most metal frame glasses are designed to withstand constant use, but it's important to note that the thicker the frame, the stronger they are likely to be. If you know that you live an active lifestyle, it may be important to find glasses to align with this. The good news is that all glasses from EFE Glasses have been vetted for their quality, so you can't go wrong with any of them.
When trying to buy the best metal frame glasses, it's so important to try them on. There is no substitute for trying on a pair of glasses to see what they feel like on your face. Even if you are certain you love the style and design, trying them on helps you to see whether or not they're the right fit for you. In many cases, glasses might not fit perfectly straight away, but the good news is they can always be molded slightly to fit your face better (e.g. changing the angle of the arms to suit your needs).
Metal Frame Glasses for the Elderly
Most of the elderly today enjoy using these old-fashioned big metal frames. These frames only tell people just how old you are. Buy smaller frames with a vintage design. Also, pure black frames with a black lens to cover your eyes completely is a good idea too.
Metal Frame Glasses for Hardworking Parents
Parents who basically don't have the time for many other things are better off with metal frames also. Metal frames have basic colors and basic styles most times.
Make sure it is designers with the company label showing clearly. However, put your allergies in mind before deciding the one you buy.
Metal Frame Glasses for Weekend Adults
We all know most people don't act the same way they do during weekdays as they do during weekends. The kind of glasses you wear to work every day are not the same as the ones you wear when going out on the weekends.
You put on your best metal frames, talking about the big frames, all black shades. Especially the ladies, they are known to look better with these glasses.
The best metal frame glasses for this year
1.Anthony
Fashion trends always make comebacks, and glasses are no different. If you want your metal frame glasses to withstand the test of time, we recommend opting for a traditional design such as our aviator-style Anthony glasses. They're not to everyone's taste, but you'd be surprised at how good they look when on!
2.Nicola
If you want something a little more funky for 2023, why not try ou Nicola glasses. These metal frames offer a pop of color to help brighten up your face, but the thin design helps to ensure they're not too overpowering. The subtle cat-eye shape is another glasses trend that is making a comeback, and they help to add a little more personality to your face. These metal frame glasses come with pink or blue accents, so you can find the ones that work best with your face.
3.Bella
This pair of metal glasses are made with an anti-reflective and anti-scratch lens. Those features are what make the eyeglass easier to use. Also, with the metal material used, the Bella are lightweight, flexible, and durable.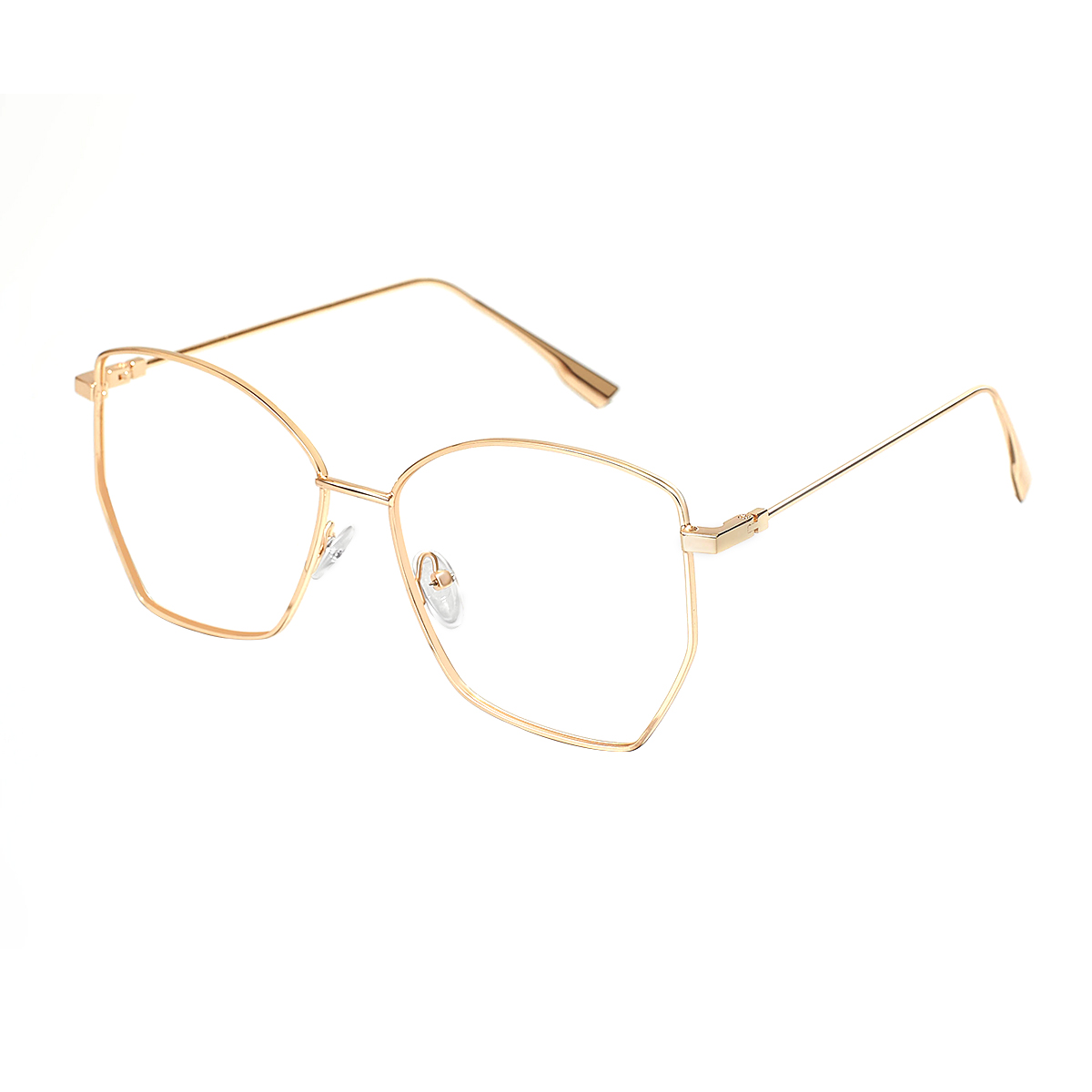 4.Neville
This round gold glasses is mainly for women. They are made with this new shape of round that appears to be more elegant. They are extremely lightweight and can be worn for long without affecting your face or eyes. Also, cat eye glasses have spring hinges that improve flexibility.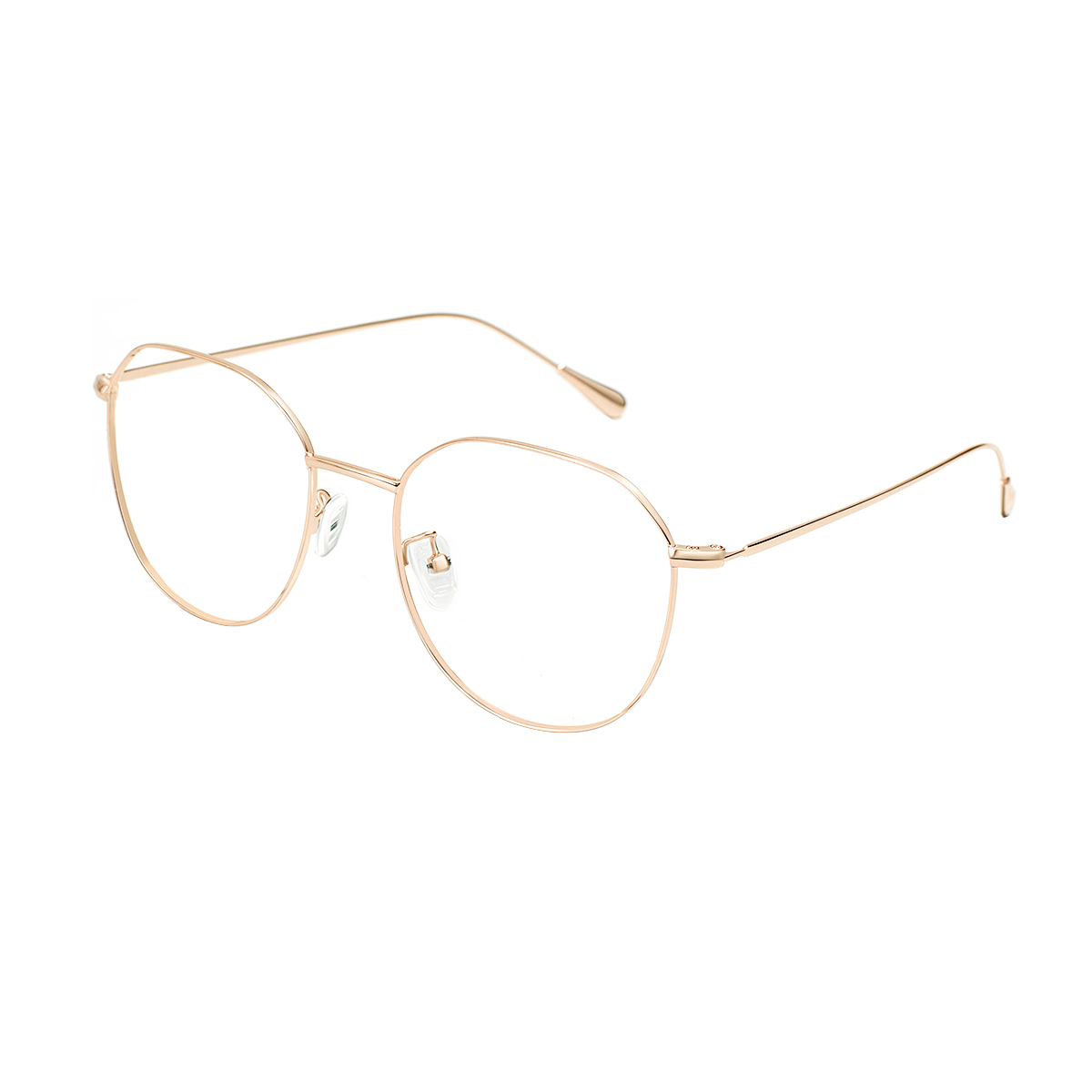 5.Alastair
If you like the aviator style but not necessarily in prescription glasses, you can always go for that shape when selecting sunglasses - the Alastair glasses are a perfect example of this.