What face shape is good for geometric glasses?
Jul 14,2023
If you plan to switch up your look and create some attention with your eyewear, wear a pair of geometric glasses. These frames give the classic frames more character while wearing them. You can have geometric frames in circles, pentagons, hexagons, and more designs. You know it's geometric because of the evident angles and edges, which could be flat or pointed.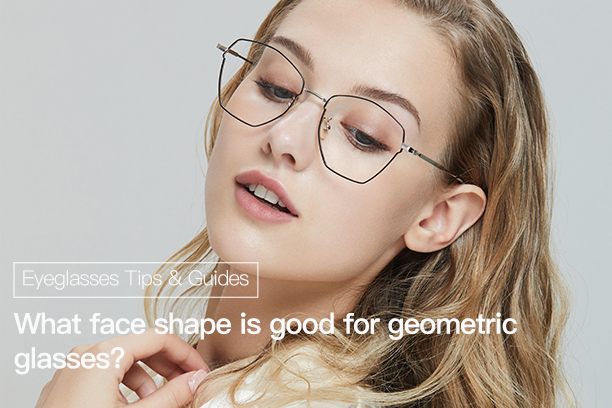 Are geometric glasses good in 2023?
They are elegant, unique and will surely give more life to the conventional eyeglasses you know; hence they're still one of the sought-after designs in 2023. The most evident effect of these frames on the wearer is that they can switch up someone's style. These glasses frames are versatile enough as you can have geometric glasses in aviator or octagonal styles. They're spin-offs to the classic aviators and round frames.
Also, you'd always make a statement when wearing geometric frames. Not only do they come with unique edges and angles on the usual shapes, but each frame also portrays intelligence and sophistication when wearing one.
What face shape do geometric glasses look good on?
Interestingly, geometric frames best suit the two most prominent face shapes - round and oval. Below are how geometric frames accentuate people with round and oval faces.
1.Oval-shaped face.
Oval faces generally have a combination of angular and soft lines. Stylists say any frame would fit an oval-shaped face. You can go bold and adventurous with geometric glasses. They give you an angular touch and soft curves highlighting your facial features more. Ensure to choose frames with the perfect fit and avoid oversized frames.
2.Round-shaped face.
People with round faces can use geometric frames to add angles and lines to soft features. You can opt for horizontal and rectangular designs when choosing geometric glasses. The frames will surely accentuate your face shape. However, one must also remember that it does not mean you can't wear such frames if you have a square face. As you know, there are various shapes and designs of geometric glasses which you can experiment with to complement your face shape.
Do geometric glasses make the face look thinner?
It depends on the kind of geometric glasses you're wearing. For round faces, you can opt for square and rectangular geometric frames, which enhance your face and make you look longer and slimmer. The frame balances your round features.
The best thing to do is try the glasses first by buying them and see if they accentuate your facial features. Whether the frames make you look thinner or not, the most important thing is to wear these glasses confidently. It's where you'll make a statement while using these unique geometric frames.
Guide to buying the best geometric glasses
There can be a handful of geometric glasses today, so it will be impossible to choose what to buy quickly among them. You can consider the following guide below. These are some essential factors you must look into when purchasing eyeglasses.
1.Durability. Whether it's for fashion or prescription, ensuring you're buying impact-resistant eyewear is always beneficial. You can check with the manufacturer first the materials they use to make the geometric frames. Some even have an anti-scratch coating on their lenses. Ensure they can withstand possible bumps and falls.
2.Style. You already know that geometric frames come in different designs. They can be aviators, octagons, pentagons, hexagons, and more. Explore your options and narrow them into your preferred shapes. That's when you start finding eyewear stores selling your targeted style. You can also check your face shape, which complements your chosen frame design and style.
3.Colors. You usually use geometric glasses to make a statement on your outfits. You can always settle for the conventional black or transparent ones. However, brighter colors like pink, green, red, and pastel colors can also go well on geometric glasses. Opt for silver, purple, blue, gray, and mauve for cool skin tones. Meanwhile, ivory, navy, brow, and green colors suit warm skin tones.
4.Customization. Geometric glasses stores today let you choose your preferred colors on the glasses frames. If you're buying the glasses for prescription, you can customize the glasses lenses before buying a pair. Ensure to visit your eye doctor first before updating the lenses.
Read more:
What face shape is good for Oval Glasses?
What face shape is good for Geometric Glasses?
What face shape is good for Browline Glasses?
What face shape is good for Aviator Glasses?
What face shape is good for Rectangle Glasses?
What face shape is good for Square Glasses?
What face shape is good for Round Glasses?
What face shape is good for Cat Eye Glasses?