What face shape is good for round glasses?
Dec 26,2022
Having your eyes tested is just the first step. You will need the best frame in which to have your lenses installed. There are a selection of shapes and styles of round glasses available. However, in order to get the best appearance, you need to get the right shape for your face.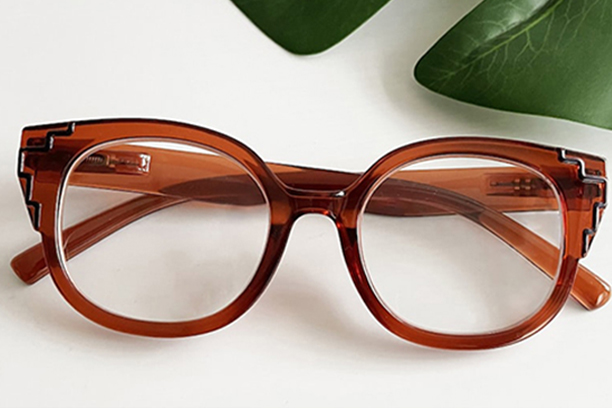 It is therefore important to know what your face shape is. This will go a long way toward assisting you in choosing the best shaped eyeglasses. Round eyeglasses have become quite popular as they fit most face shapes.
There are several sizes available, which are distinguished by their rounder or more perfectly round shapes. If you prefer round eyeglasses, you will always be in style. Round glasses have never gone out of style since they were first created. The round glass shape was the first to appear on the market since the beginning of the nineteenth century. These glasses, called Windsor glasses, have been around since the 1800s. John Lennon popularized it further in the 1960s. In recent times, the Koreans have picked up this trend as well.
1. Round glasses for square faces
Some of the features of a square face are a strong, angular jaw and a clean, straight line from the forehead to the jaw. For this reason, round glasses will soften the jawline and complement the width and length of your face, especially the straight lines. Round glasses with thinner frames can improve the overall balance of your face even more.
Simply put, round glasses contrast angular features very well. There are several options to choose from, and it will also depend on the size of your face and how angular your race is.
2. Round glasses for oval faces
An oval face may have round curves as well, but it is different enough from round glasses. It is, therefore, possible for you to wear them. An oval face also has overall prominent features. By choosing round glasses, you can enhance those features. This will give your oblong face an overall pleasing appearance.
It will depend on the glasses frames as well. For example, you may benefit from choosing either a dark frame, a transparent frame, a metal frame, or a black frame. These choices will depend on your skin tone and the size of your face. Have a look at our Cyril eyeglasses. It is round enough but not completely round, and it is sized well to complement an oval face.
3. Round glasses for a heart shaped face
Round glasses will be perfect for your heart shaped face. The heart shaped face has a wider forehead, wider cheekbones, and a narrower jawline. The shape creates a pointiness toward the chin. By choosing round glasses, you can soften this angular characteristic. Additionally, they can draw attention from your chin or forehead to your eyes and cheekbones.
The important thing here is to choose round glasses that are not too small. To achieve the best visual appearance, select a size that perfectly fits the size and shape of your face. Have a look at our Laverne eyeglasses for both men and women.
4. Round glasses for oblong faces
An oblong face is an elongated face that is well balanced. That means that any frame that is too narrow will extend this elongation even more. It is possible for this face shape to wear round glasses as long as they are not excessively round or oversized.
Maintaining the inherent symmetry of your oblong face is the primary objective of wearing round spectacles. You should pick a frame that will highlight your oblong face's symmetry. In doing so, you will also greatly improve the visual appearance of your face.
Summary for round glasses
Both men and women can choose from our selection of round glasses to suit their needs. EFE offers you a selection of round glasses from which to choose. They are a perfect fit for your square face, oval face, heart shaped face, or oblong face.
Read more:
What face shape is good for Oval Glasses?
What face shape is good for Geometric Glasses?
What face shape is good for Browline Glasses?
What face shape is good for Aviator Glasses?
What face shape is good for Rectangle Glasses?
What face shape is good for Square Glasses?
What face shape is good for Round Glasses?
What face shape is good for Cat Eye Glasses?