Why cat eye glasses are so popular
Dec 26,2022
The fashion world has seen so many fashion trends. Some of them come and go, while some of them are timeless. One of these timeless trends is cat eye glasses. Cat eye glasses frames are mainly designed for women, they are more suitable for women. Cat eye glasses have now become an indispensable "tattoo" for those who pursue fashion. You might be wondering why cat eye glasses have become so popular? In today's article, we will explain all this to you.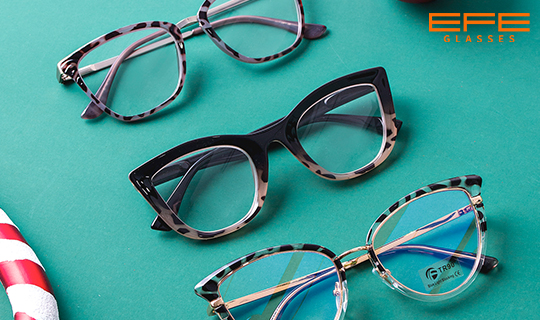 A history of the cat-eye glasses frames
The cat eye was the first uniquely feminine eyewear style in history. It was invented by Altina Schinasi Miranda in the late 1920s. Cat-eye glasses first became popular in the 1950s as a feline-inspired style. In stark contrast to previous popular frames, cat eye glasses marked a new era in women's fashion style. Later, famous actress Audrey Hepburn started the cat-eye sunglasses trend by wearing cat-eye frames in the 1961 hit film Breakfast at Tiffany's. Since then, we've seen the cat's eye on everyone from Barbie to Marilyn Monroe, Jacqueline Kennedy Onassis, and today's top fashion influencers.
What keeps cat eye glasses so popular?
1. Suitable for all face shapes
One reason cat-eye glasses are so popular is that their subtle cat-eye shape suits a variety of face shapes: a square face will be balanced by a narrower lens width, and even with an oval face, they will show off your facial features beautifully; exaggerated cat-eye rims will reveal the cheekbones in a heart-shaped face. That's probably why the cat's eye's popularity never really waned.
2. Suitable for all occasions
This is definitely one of the reasons cat eye glasses have been around since the 50's. Everyone loves to have something that will make them look good for any occasion. Some simple cat eye styles are perfect for when you're going through the day at the office in a simple T-shirt and jeans; some cat eye styles with sparkly rhinestones and silver accents are also great for weddings or formal occasions, Will make you look more charming. What's more, you can use a variety of colors to match your glasses with your outfit and match shades for your shoes or handbag. Whatever your look, cat eye glasses will complement your look.
3. They are unique
The concept of the cat eye frame is different from some other basic glasses frames and the design is quite spectacular. Feline eyes inspired this fashion marvel, making it look forever unique. And the cat eyeglass frames themselves are very affordable and high quality!
Where to get a pair of cat eye glasses?
Cat eye glasses are available in many opticians and even antique stores. But we recommend you to buy from our EFE Glasses. On our website, you can experience our AR TRY ON function to choose the most suitable cat eye glasses for you, and we can even provide you with customized services. Many people wear glasses to adjust their vision, while others wear them for sun protection. If you have vision problems, it is advisable to check to see if you need reading glasses or prescription glasses. If necessary, you can provide your prescription on our website, so as to configure the most suitable cat eye glasses for you. Likewise, for those who want to protect their eyes from the harmful sun, you can opt for cat eye glasses with UV protection. So, take a look at the cat eye collection on our website now, you can always easily try out the latest styles!