What glasses look good on older women?
Sep 08,2023
Eyeglasses for older women involves more than just improving vision; it's also about making a fashion statement and enhancing personal style.
The right pair of eyeglasses can boost confidence and contribute to an overall polished appearance. To achieve this, older women should consider various factors, such as face shape, comfort, and individual fashion preferences.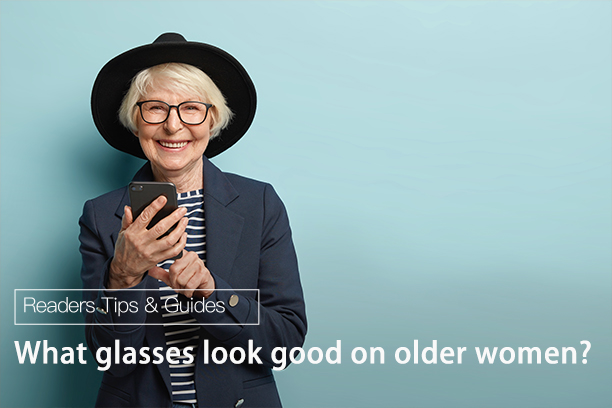 What shape glasses are best for older women?
1. Cat-eye glasses
Many older women love cat-eye glasses for a variety of reasons, and these frames have endured as a timeless and iconic style. Cat-eye glasses evoke a sense of vintage elegance and glamour, reminiscent of the 1950s and 1960s. Many women appreciate the classic and sophisticated look that cat eye glasses provide.
2. Rectangle glasses
Rectangle-shaped eyeglass frames offer a classic and versatile look that appeals to a wide range of fashion preferences. Some older women love it for it often conveys a professional and polished appearance. They are a popular choice in business settings and can help women feel confident and capable.
What color glasses are best for older women?
1.Soft pastel
Some older women prefer soft pastel shades like lavender, light blue, or pale pink for a touch of femininity and elegance. These colors can be particularly flattering. Soft pastel colors won't be overshadowing if some older lady wish to present a staid image to people.
2.Tortoiseshell:
Tortoiseshell patterns, which often feature a blend of brown and amber tones, offer a classic and stylish look that complements many face shapes and styles. Also, it bears fashion and cute attributes which remind people of lively. Many iconic figures in film, fashion, and history have worn tortoiseshell glasses, contributing to their classic and iconic status. This association adds to their enduring appeal.
How to buy the right glasses for older women?
Choosing the right glasses for older women involves considering various factors, from vision needs to style preferences. Here's a step-by-step guide to help you buy the right glasses:
1. Get an Eye Exam:
First and foremost, schedule a comprehensive eye exam with an optometrist or ophthalmologist. This will determine your precise prescription and identify any specific vision needs, such as reading or distance correction.
2. Consider Prescription Needs:
Single Vision: if you have a single vision prescription for nearsightedness or farsightedness, you'll need glasses with lenses that correct either distance or near vision.
Bifocals: if you require both distance and reading correction, bifocal lenses with a visible line may be suitable.
Progressives: progressive lenses offer seamless correction for distance, intermediate, and close-up vision without a visible line. They are a popular choice for multifocal correction.
3. Face Shape:
Consider your face shape (e.g., oval, round, square) when choosing glasses frames. Different frames complement various face shapes. Rectangle, oval, and cat-eye frames are often flattering options for older women.
4. Skin Tone:
Frame color should complement your skin tone. Warmer skin tones may suit tortoiseshell, gold, or earthy tones, while cooler skin tones may work well with silver or black frames.
5. Comfort:
Prioritize comfort by selecting frames with adjustable nose pads, lightweight materials, and the right fit. Frames should sit comfortably on your nose and ears without sliding or pinching.
6. Lens Material and Coatings:
Choose the right lens material based on your prescription and lifestyle. High-index lenses may be ideal for stronger prescriptions, while polycarbonate lenses offer impact resistance.
7. Coatings:
Consider adding lens coatings like anti-reflective (AR) coatings to reduce glare and improve clarity. Scratch-resistant and UV protection coatings can also enhance durability and eye protection.
8. Frame Size and Style:
Ensure that the frame size fits your face comfortably. Frames that are too large or too small can be uncomfortable and affect vision.Style: Choose a style that matches your personality and fashion preferences. Classic or trendy, the choice is yours. Rectangle, round, or cat-eye frames are timeless options.
9. Lens Shape and Thickness:
Depending on your prescription, consider lens thickness. High-index lenses can provide thinner and lighter options for stronger prescriptions.
10. Lens Shape:
Select the right lens shape based on your needs, whether you prefer full-rim, semi-rimless, or rimless glasses.
11. Try Before You Buy:
Many optical stores like EFE allow you to try on frames online. Take advantage of this tool to see how the frames look on your face.
12. Budget:
Determine your budget for eyeglasses, and consider any insurance coverage or discounts that may apply.
1. Boogie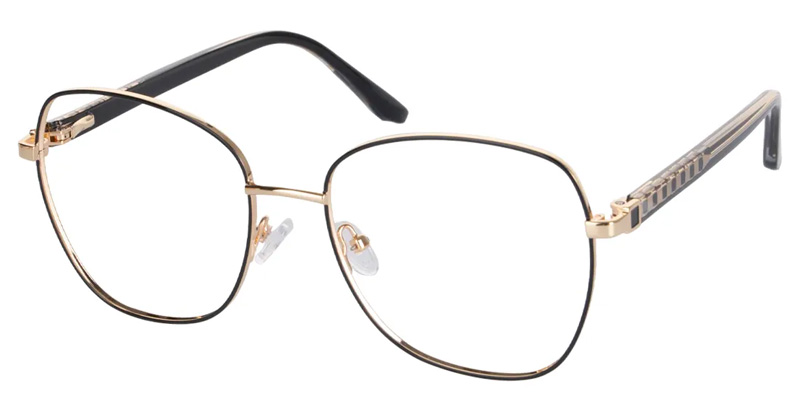 Boogie is a classic black prescription glasses that suit for versatile occasions. The whole figure of the glasses is small and lightweight, so it won't pose heavy pressure on older men's nose bridge. The subtle frame on your face flatters your aura.
2. Song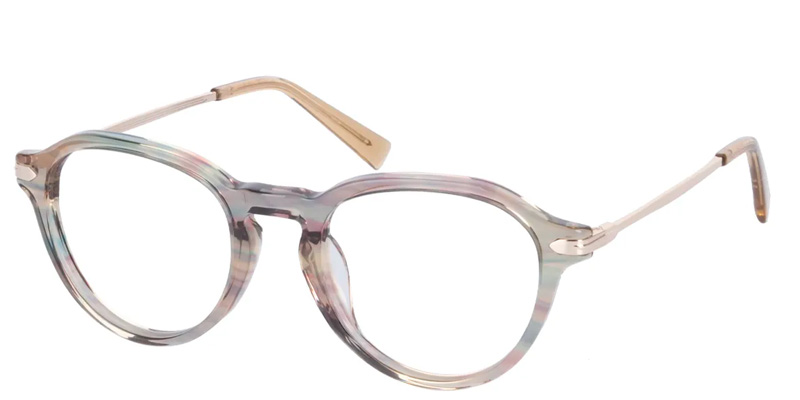 Song features round multicolor-cream frame. Crystal-like radiant texture make the eyeglasses graceful and gentle for the first impression. It is elegant lady's favourite.
3. Delaware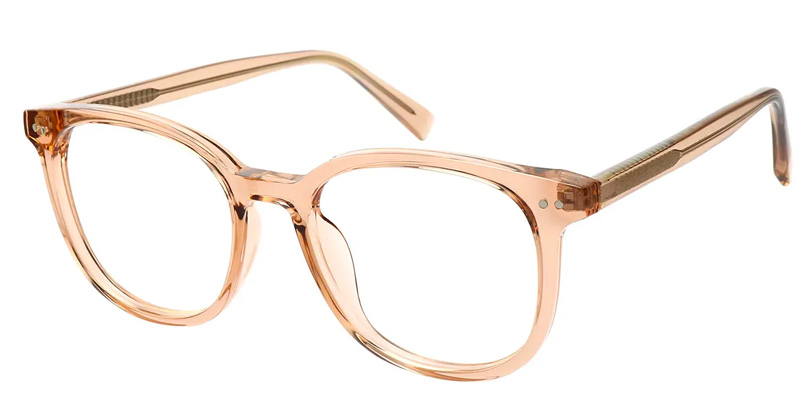 Delaware presents champagne color all round the frame. You can see the steel structure through the frame. The combination is congenial and attractive.
1. Hillary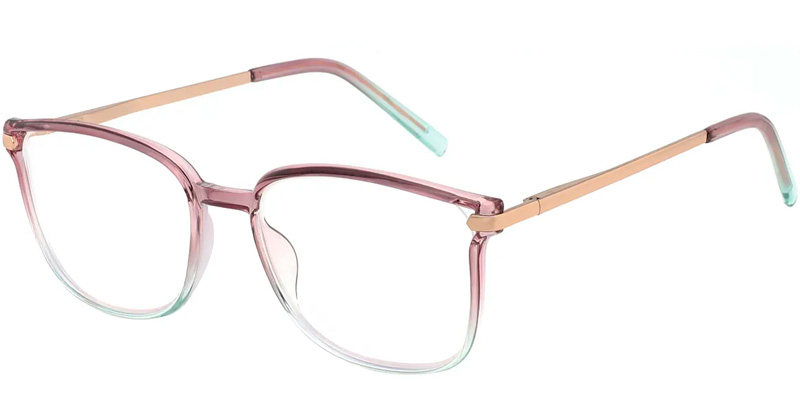 Hillary flaunts a stunning ombre front with a gentle transition from petal pink to a soft teal shade. The temple tips harmoniously mirror this gradient, while the metal arms elegantly round out the overall aesthetic. Designed for comfort, these glasses feature spring hinges, and their low bridge fit is enhanced by larger nose pads to prevent any unwanted slipping. It suits the older women's skinny cheekbone with age.
2. Canyon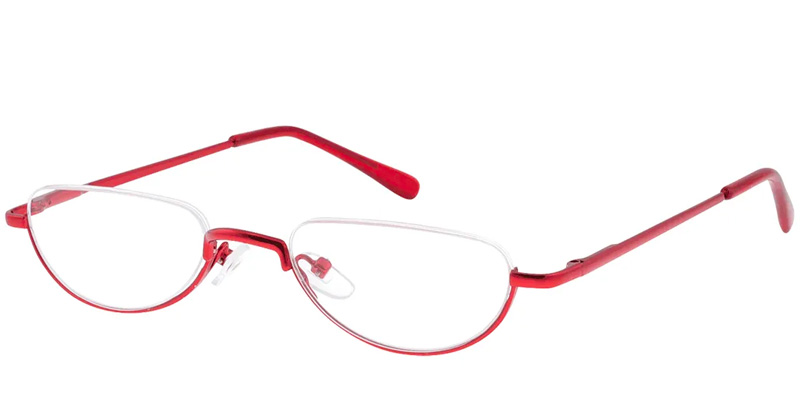 Canyon glasses adopt bold red frame for modelling. So it goes well with fair hair color and red lips that women customers would choose. Small figures of the glass balance your facial features as well.
3. Felicia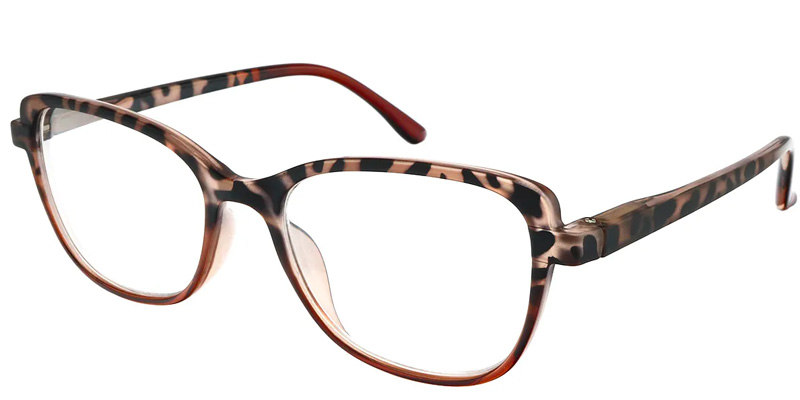 Felicia is cat-eye reading glasses. The print on the frame is leopard, featuring bold and eye-catching appearance. It is often used to make a fashion statement and can add a touch of daring and confidence to an outfit or decor.